The local government office of Toba Samosir in collaboration with Institut Teknologi Del organized workshop on E-Budgeting Application for Toba Samosir Regency on September 13th -15th, 2018. The workshop opening was attended by the Regional Secretary of Government office of Toba Samosir, Head of Del Foundation of North Sumatera, Local Government Asset and Finance Officer of Toba Samosir, Rector of IT Del, Head of Research and Community Service Committee of IT Del and all local government organizations of Toba Samosir.as the main operators for E-budgeting application.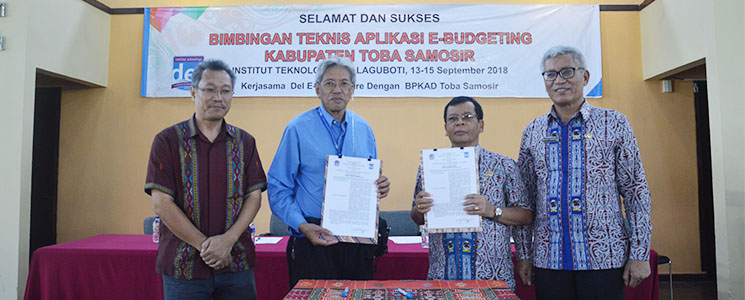 E-budgeting application was initiated to ease the implementation of development planning cycle in the local government, particularly in the disposition of task in each department. The application certainly has significant role in process of development planning, including in the initiation of program and budget proposal for each department. The website design of E-budgeting application is accessible online therefore local government office in all sub-area of Toba Samosir can easily access this application.
After the closing, the local government of Toba Samosir, represented by Local Government Asset and Finance Officer, Mr. Ganyang Situmorang and Institut Teknologi Del, represented by Vice Rector of Partnership, Research, Planning and Development Mr. Dr. Bambang S.P. Abednego signed a contract on the implementation of Information System on E-Budgeting Application.