Sitoluama, July 11, 2019 IT Del signed the Memorandum of Understanding (MoU) with PT Solusi Transportasi Indonesia, well-known as Grab. This MoU covers cooperation in student talent development in which Grab will set up a special program for IT Del students' recruitment and talent development. Moreover, Grab will support IT Del's digital innovation competition to promote Balige and Lake Toba Area as the national and international tourism icon.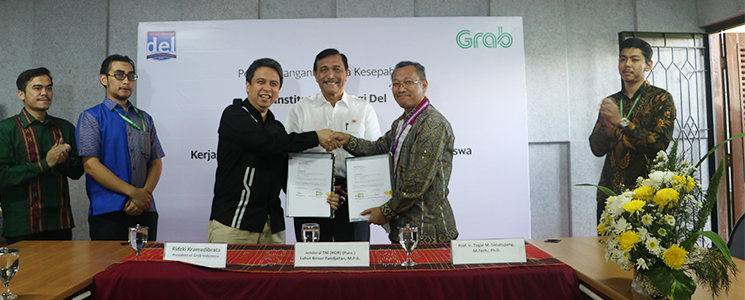 Located in IT Del campus, the MoU was signed by the Rector of IT Del, Prof. Ir. Togar M. Simatupang and President of Grab Indonesia witnessed by the Founder of Del Foundation, Jend. (Purn) Luhut Binsar Pandjaitan, MPA.
"IT Del has a mission to be the center of excellence in technology use for the nation's advancement. We want to carry out and develop excellent and sustainable education process useful for people in general.  This cooperation with Grab has encouraged us to be able to supply talents of Technology Excellence from North Sumatera to rise with their works in the region and in global" the Rector of IT Del emphasized.
Digital innovation competition implementation program will start by involving Grab as the avant garde and reputable technology company in Southeast Asia. The collaboration between IT Del and Grab should be able to boost new start-ups at IT Del and a platform for bringing creative and innovative ideas of these children of the nation into realize.
#itdel #institutteknologidel #mou #notakesapahaman #grab @ Institut Teknologi Del