Del Language Cup has been an annual agenda of UPT Bahasa IT Del. This year, 35 schools have been invited for this prestigious competition. In total, there were 60 participants from 15 schools participating in DLC 2019 on March 15th – 16th 2019. There were three competitions prepared for this event, namely Speech competition, Scrabble competition and Debate competition. This event was started with the opening remarks from the Head of UPT Bahasa, Mrs. Monalisa Pasaribu, S.S., M.Ed, followed with the speech competition of 22 participants. The next day was the competition day for scrabble with 20 participants and debate with 9 teams. The committee for DLC 2019 were Mrs. Monalisa Pasaribu, S.S., M.Ed, Ms. Rumondang Miranda Marsaulina, S.P., M.Si., Ms. Santi Agustina Manalu, S.S., M.Pd., Mrs. Tiurma Lumban Gaol, S.P., M.P. and Ms. Regina Ayunita Tarigan, S.Si., M.Sc with the assistance from 11 IT Del students. The event was officially closed by the Vice Rector of Students and Academic Affairs IT Del, Mrs. Dr. Arlinta Christy Barus, S.T., M.InfoTech along with the submission of the trophies, certificates and prizes to all the winners.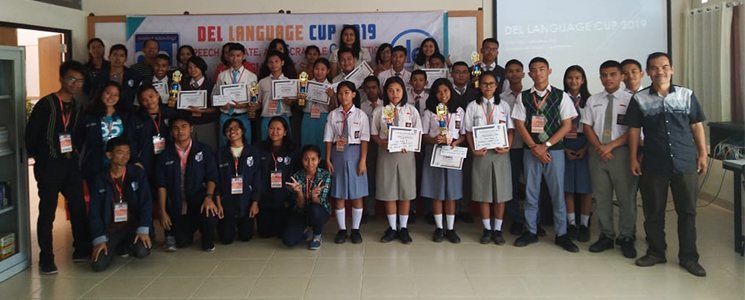 The winners of speech competition are:
1st winner: Nathan Philio Simarmata, SMA UNGGUL DEL
2nd winner: Diva Simanjuntak, SMA NEGERI 2 TARUTUNG
3rd winner: Cindy Meike Manalu, SMA KATOLIK SIBOLGA
4th winner: Pangeran Arga Aritonang, SMA UNGGUL DEL
The winners of scrabble competition are:
1st winner: Yosia Y Harianja, SMA Unggul Del
2nd winner: Priska E Lumban Batu, SMAN 1 Pollung
3rd winner: Ade Ningsih Barasah, SMA Santa Maria Tarutung
4th winner: Eviayanti Lumban Tobing, SMAN 1 Pollung
The winners of debate competition are:
1st winner: SMA Unggul Del, ALYSA FERNANDA SIRAIT and THOMAS MANIK
2nd winner: SMA Katolik Sibolga A, AVIN CHAILI SALIM and ANDREW KRISTANTO
3rd winner: SMA Katolik Sibolga B, CAROL MARELIUS LOI and KEZIA GLORI JOSEPHINA
4th winner: SMAN 2 Tarutung, OLGA W. SIMORANGKIR and ZHOEN P TAMPUBOLON
Congratulations for all the winners and we thank all the participants who have joined this year's Del Language Cup. Looking forward to seeing you all in DLC next year!