Directorate General for Study and Students Affair, Ministry of Research, Technology and Higher Education of the Republic of Indonesia organized a contest joined by students from universities accredited in the Ministry.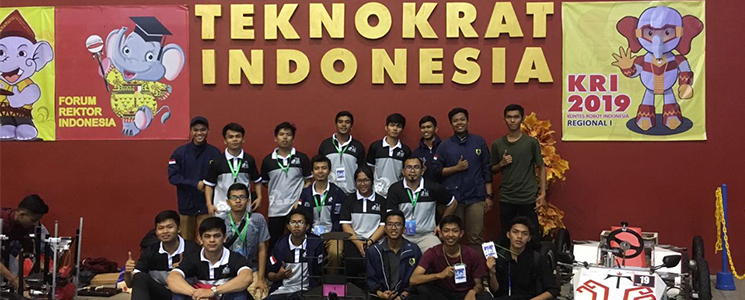 From April 4-6, 2019, some students from Institut Teknologi Del participated in KRI Regional 1 at  Teknokrat University of Indonesia, Bandar Lampung. Of the six divisions contested, Institut Teknologi Del participated in 3 divisions: 1.Kontes Robot Pemadam Api Indonesia (KRPAI); 2.Kontes Robot Seni Tari Indonesia (KRSTI); 3.Kontes Robot Sepak Bola Indonesia (KRSBI) Beroda.
In order to join Robotics Indonesia Contest at regional level, each team had to submit a proposal addressed to Robotics Indonesia Contest Central Committee, after previously approved by the Vice Rector/Chair/ Students Director of their university. The team successfully passing Proposal Selection should prepare their robots for the Second Evaluation by submitting their report on the progress of the robot building. The team passing Evaluation II is then entitled to participate in Regional Robotics Indonesia Contest.
This Indonesian Robotics Contest makes the students possible to boost their creativity and interests in advance technology, particularly robotics technology essential for industries.
The Indonesian Robotics Contest 2019 team from Institut Teknologi Del has thanked a lot because it was fully supported by Institut Teknologi Del and several sponsors; Sekda Toba Samosir, PT.Indonesia Asahan Aluminium (INALUM) , PT.Toba Pulp Lestari (TPL) and Batikta.
#ITDel #InstitutTeknologDel #KontesRobotIndonesia #KRI
#event #BravoITDel