Salah satu keunggulan kuliah di IT Del, yakni terbuka kesempatan mengikuti Exchange Program.
Program Pertukaran Pelajar menambah pengalaman baru belajar  dan hidup di negara lain.
Salah satu contoh mahasiswa Marselo Sitorus, Program Studi Manajemen Rekayasa ini telah membuktikan keberhasilannya dan mampu bersaing dengan anak lain di Universitas Top.
Bagi yang ingin tahu, silahkan simak cerita dan Pengalaman hebat Marselo. Siapa tahu giliran anda kemudian.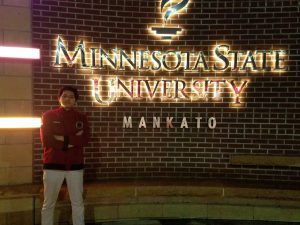 1. January 3rd, 2018
Most people spend their New Year's Eve with their families but I did not. I was staying in hotel three days before my departure. I departed from Indonesia to Minnesota at January 2nd, 2018. for those who don't know, I am representing Indonesia for Global Undergraduate Exchange Program in the United States.
As I flew, still I pictured the moment of happiness on my beloved campus IT Del with my friends, staffs, and lecturers. Still I heard the sound of my family echoing telling me how proud they are about this achievement. Since then, I decided to only have one job, to not disappoint them. Thank you for their conviction on me.
2. January 10th, 2018
The humans are meant to be together with others and that's how I feel. At the very first day here, I didn't have a friend, not a single one. My roommate is not even here because he is on spring break. I was all alone even in the dorm. It is snowy all over the place and had no idea where to go or what to do.
it was three days ago I saw a black dude who lives in the same dorm, same floor. I was a bit scared to approach this guy because I do not know how to befriend foreigner in a proper way. so, in the end, without any doubt, I went to his room and knocked his door. I had no idea why but he was super nice to me and welcomed me warmly. He asked me to stay over to his room and I asked him too. Short story, I knew that he is from Ethiopia and a transfer student from his country. After a long talk, we kind of hit it off and became bros. I took him anywhere, to the Dining Center, to the library, the Bullpen, the Central Student Union, everywhere I go.
Like the most universities, the first days are for the student orientation. It is just like every other common orientation, the supervisors directed us to take a stroll around campus while completing the number of things listed on the form given. The committee gave us the account that connected to all portals in MNSU named StarID. I guess most universities in the US undergoes the same system. So, paying the bills, printing, submission, registration, grading, quizzes, free wifi, etc. will be staked on this single account.
3. January 17th, 2018
The first two weeks was the time I dedicated to settle things up and to adapt to the new environment. This week I dedicated to explore Mankato! The best place to be in Mankato is the lakes since it's crazy cold here, the lakes are freezing. Someone can even bring their vehicles to the lake surface without being afraid the ice will crack. Some of those people who boldly playing with their lives in the frozen lake, dug a hole in the middle the lake and went fishing. I thought it was just in a movie.
I needed to fulfill my daily needs but I did not know where to go. Fortunately, the UGRAD fellows from other country who has already been here since last semester were willing to show us around. So, on MNSU, there are 4 other UGRADers who are extremely kind, those are Panamanian, Tajikistani, Turkmen, and Moroccan. My Tajikistani and Turkmen who brought us out the closest supermarket. It is well-known in the US and so called as Walmart. Every international student shops in this market. It provides everything with a reasonable price. This is not an endorsement but this place is highly recommended.
4. January 24th, 2018
The main purpose of this exchange program beside to learn American culture, is to ripen my understanding about the field I am currently passionate on. I feel like my strong desire and American education system would be the perfect match. I said so because it emphasizes on understanding/concepts and is committed on its practical side. All those two and my fondness to English will take me to the next level. I am so hyped.
The class has been commenced for the last two weeks. It has been very challenging to me. No matter how often I was listening to the English presentation, watching English movies without subtitles, and reading English comics, I still have some difficulties on understanding the professors. Not to mention but they speak really fast and I cannot catch up. Some of the old the professors even speak with old-fashioned English with a lot of idioms and technical terms. If I were to calculate my absorbing rate, it would be below 10%. I am not being modest. In order to chase the pace, I read the textbooks before the class begun.
The class atmosphere is so different. Everyone is so positively competitive. I was baffled seeing this too-good-to-be-true view. From now on, I will never wonder why Americans are so smart. When they are in class, they exist in the class and become present in the class. When they don't like to be in the class, they don't bother to attend. Some might see this as a madness but I personally perceive this as a genius. They are so well-managed in time, so they better do other productive activities outside rather than hearing nonsense in the classroom. I never saw any students playing Mobile Legend, Dota 2, out here. No offense please but they are really committed to their study, most of them, some may be not.
I can also spot the major difference between Indonesians and Americans in the sense of the participation of the students. Most Americans that I met in the classroom are so proactive. If they did not know a thing, they would directly ask the professors in the classroom. Even the smallest and the simplest question or even some unrelated-topic questions. Based on own experience, their questions are not so difficult, I am not bragging but even I could answer the question. One thing I am really startled about was their acknowledgement of not knowing things because not – knowing does mean stupidity but the process of learning, if you are willing to ask. I am generalizing based on what I have undergone for more than 10 years on the Indonesian school. The students are not so confident to speak for themselves, maybe it's because how the norm shapes us. That is to be humble and modest. Some students are so not confident and ask their seatmates or their friends. So, there is a saying here in Mankato "Don't believe your friends but your professors". It doesn't mean you can't trust your friends at all, they can be correct too but don't just rely on them. Because we don't want to see the blind leading the blind.
5. January 31st, 2018
One of the biggest pleasure you can have while studying abroad is to have people of your nation. I am not denying that. Because it is a thousand percent true. People tend to fond those who have the same birth lands. As Nelson Mandela said, "If you talk to a man in a language he understands, that goes to his head. If you talk to him in his language, it goes to his heart". Yes, I want to be fluent in English but not by eroding my mother tongue. Speaking Bahasa with these people are so priceless.
6. February 7th, 2018
Minnesota State University Mankato is a huge campus with numerous students. it varies from 98 countries all over the world. I do not know whether this is true but I heard this fact on the orientation. I can assume that everyday I will meet different people either in the way to the library or when I have brunch. Every nationality carries each unique characteristic. It is funny to listen to their slight accents.
Based on my observation for the last few weeks and my little research, I could map the behaviors of some people based on their nationalities. Most of them considered as majority are so attached to their groups. Some of the groups Include Koreans, Most Africans, and Americans. I am generalizing, some of them are not. This is really bugging me off. If you are in the US, studying in the US education system, it's so much better if you use English in daily basis. I said so because these people speak with only their own language and hanging out with the same person every day. I love chilling with my Indonesian friends but that does not mean I have to be with them all the time. I've got to sharp my English skills too. This makes them are not approachable. They always ganging everywhere. So, two days ago, I met this Korean people, I greeted him he replied and we talked. It was on the way to my dorm, we had a nice time. Suddenly, his Korean friend showed up and interrupted our conversation. They even spoke Korean in front of me and left me hanging seeing them talking. What a disrespect!
7. February 14th, 2018
It is not always easy to make friends here. Because I've always wanted to have an extraordinary English skill like a real native speaker, I would be reasonable, according to my opinion, by mingling with the Americans. If it were in Indonesia, it would be really easy, we Indonesians have a similar sense of humor, hobby, and something in common. Those things are the best ammunition to build bromance. I have asked few people and concluded that networking is their main goal on making friends. This might be true because I have experienced it myself.
Undergoing one month in this state, I thought I would have American friends. I encounter with them every day on every corner of the campus yet none of them puts their attention on me. In the classroom, we can be really close discussing about the lectures, but when we're out and encountered in the public places, say the Café, they acted like I am a stranger. This is weird. This is one the best reasons why Del is irreplaceable, it always feels like home wherever you are.
8. February 21st, 2018
I have mentioned before that when it comes to studying, the American education system has a more practical approach. Without hesitation, I would say that it is true.
I am taking MET 425 Lean Manufacturing. For those who don't know, Lean Manufacturing is a discipline who focuses on diminishing the waste on the plant. for every plant on earth, this course is really crucial to increase the productivity.
Exactly 4 days ago, we went on a factory tour to learn about what actually Lean Manufacturing is. It was at Saint Peter, one hour and a half drive from Mankato. Since I don't have any personal transportation, the vice president of this MET Department let me tagging along to hers.
The company we went to was Alumacraft, it is a small – medium sized company. We were welcomed by the managers and lectured a basic code of conduct in the company. After putting on all the safety equipment, we went inside and observed how the steel and lumbers could be transformed into such beautiful boats.
9. February 28th,2018
I love studying here in Minnesota. Even the weather is killing tropical – country human. After two months, it gets to the point where the excitement going downhill. seeing the same snow everyday in the same place would be a tedious. I've gotta visit at least the closest city to also loose the stress a little bit. one day without books and assignment.
My Indonesian friends thought about the escaping the routine as well. So, we were planning to go Minneapolis to find some fresh air.
It was on Friday February 23rd, the perfect time to execute it. One of my friends just got his new car so we were using that car. We were three persons going on this trip, one of the two picked me up by the front lobby of my dorm. I was really hyped. The trip would take 2 hours – drive. It was quite distant and we did not want to burden all the costs fuel to the car owner. So, we split the gasoline.
The view was wonderful. During the trip my eyes were pampered by the snowy meadows and freezing forests. I opened down the window, I glanced while inhaling the cold – fresh air. It felt like I could forget all my problems, quizzes, and the upcoming exams. I guess my eyes were glowing and my soul was relieved seeing this. Upon our arrival at Minneapolis, we drove slowly sightseeing the city view. Unlike Mankato, the city is filled with antique buildings.
In Minneapolis, we stopped by to some places but the most memorable place is the Minnesota State University. One of the best universities in the United States. The campus was hella huge. I have got to be frank but I am kind of jealous to this one. On UofM, in turns out to be a lot of Indonesian people, approximately 50 students. we had been told there was an Indonesian event there. It was also one of the reasons why we came there on the first place. We attended that meeting and it was a blast. Meeting with other crazy amazing Indonesians there was a blessing in disguise. We mingled, we talked, and introduced myself. I was very proud to convey that I am a Fulbright Scholar from Del Institute of Technology. Even none of them knew it. lol. it was even more intriguing because they served us Indonesian food like Gado – gado, Lontong, etc.
10. March 12th, 2018
Spring break is over. Time flies so fast, I can't even blink my eyes. Naturally, the students will have a vacation with their families. Most UGRADers went on a trip to the big states like California, Florida, Los Angeles, etc. on spring break, the campus is off for 12 days. I was really confused where to visit. My Indonesian friends asked me to go to Grand Canyon. I rejected it because it was going to spend $500 approximately and I couldn't afford it. I was ready to be left alone on the dorm because it was going to empty.
My Thai friend who also happens to be my classmate. He informed me that there was a mission trip for 10 days in Montana. Two questions popped
on my mind: What is mission trip? And where is Montana? But since it was free, without further thoughts I bought off on that offer. I emailed one of the persons in charge to confirm my participation.
Mission trip is an activity organized by church to travel far away and to toughen our faith by contributing to our society (my own definition). it usually takes place on a remote or underdeveloped area. It is also held to share the love of God.
The day had come. All of us were gathered in front of the church to decide who's going with whose cars. This mission trip was followed by 40 people in total (I guess, I didn't count), 6 of them are the facilitators and others are the "toddlers''.
The trip to Montana by land transportation would approximately take 13 hours, if we went straight without staying over but it was not going to be fun at all. So, we were going nomadic. The route we had to pass through was Minnesota – South Dakota – Wyoming – Montana. We spent the first day in South Dakota and slept over on the church. on the evening, we played the board games and cards while introducing ourselves. It was really awkward the first time but after a while we could get along. At the night, we sang the Christian songs and heard the preach from the Pastor. The Pastor was hella wise and funny. The second day we made it to Montana. it was freezing all over the way with oxes and horses as distant as eyes could see.
In Montana, we visited the Crow Reservation. It is established to nurture the Native Americans Tribe. We were welcomed by Pastor Dan, the man who has run the church in the Crow Reservation for years. He also preached us. His warming and charming attitude melted our heart. His passion for serving God has been honed. His grit has made him a formidable being. He also told us about the story of Native Americans. I could be wide awake for nights just to listen to his extraordinary stories. After that we went to the Gymnasium by the school and stayed there.
On day fourth, we visited the school. we came to the school to do anything that the school wanted us to do. In the morning, we had the breakfast with the kids and mingled with the kids. We were greeted with
warmth and sincerity. These kids were fun to talk with too. I don't know how they could be so nice to the persons they just met.
We divided the troupe into two based on the job description. One group would work in the school whereas the other one would go to the church. I decided to stay on the school and played with the kids. The "school" group helped the kids with reading, decorating the schools, cleaning the classroom, becoming the facilitators that the teachers could use to bolster the learning process. I and some friends were happened to help one the science teacher to create a renewable energy using the manure and the straws. My hands and my feet were freezing since we had to shovel the wood chips and the snow got into my shoes. We spent three days on this school.
on day sixth, we visited one the museum that consists the evidence of the Native American Civilization named The Battle of the Big Horn Museum. We also had the chance to watch the documentary movies in that museum. One of the keepers took us out and escorted us to see the Last Stand. The place where hundreds of Native Americans and soldiers of the United States were died to fight for the land. I could also amaze myself by seeing the graves of these honored fighters.
On day seventh, it was the time for culinary exploration. We one of the most authentic native American restaurants in Montana. The offered menu was distinct, I could only find it this restaurant. While waiting for our orders, we were cheered with the servant who could impersonate the horse neighing. This restaurant was happened to sell the souvenirs too. I bought one for my mother. In front of the restaurant, I could see tiipii lining up, tiipii is the house for Native Americans.
On day eighth, we went back home. We farewell all the kids and Pastor Dan. He even cried when we left. He promised to pay a visit to Mankato. We departed from Montana on early morning to catch the day. On the way back home, we stopped by the Mount Rushmore to take some photos. This place is considered to be one most iconic destinations in the United States. I once saw this place on the movie called the National Treasure and I finally made it. What a dream come true!
11. March 19th, 2018
After a long break, the moment to prove my seriousness on studying was contested, the Mid Term. It was really stressful and intense because this might influence my stay in United States. The fear consumed my body and thoughts. I believe that scariness emerges because of lack of preparation. I spent the whole spring break for vacation. So, you know how bad my preps are. I literally had a few days to recall all the materials but I was whacked by the long trip.
The fear itself encouraged to optimize the short time that I had. I went to the library till night, packed my whole meals and brought to my room, reduced my sleep time. I could not let this slip. I could not sleep well, me eyes turned red and felt so exhausted. You win some, you lose some. That's what I've always been reminded.
I am the type of person who cannot study by self. I need group or at least one person whom I can discuss with. That's how I nail a new notion on my head. I speak it, I memorize it. With this method, I can learn twice faster than alone. Unfortunately, there was none a single person I who wanted to learn together. I kind of felt that they are already smart and genius and could figure everything out themselves. That happened to the four courses but not with U.S Government. This Thai friend of mine agreed to be my partner in exam.
The U.S Government compared to the other four was the hardest for me. This course is still new for me and I did not have any basis. I can easily understand anything with calculation but when it comes to history and memorizing. I am the complete opposite. this course requires me to read some thick books with some their hard vocabularies. If I were to calculate the time I have to spend to read a page, it would take 10 minutes or something. I was going to fail this course. I spent most of my time to learn this course, even more than the over four combined. I studied day and night with my Thai friend.
The day had come. Some were online exams and some were not. I did pretty good on the online ones because the results were shown right after the exams were done. The written ones are in progress. I think my effort has already paid off.
It was quite tense during the class exams. Almost in every exam, I became the last person who left the room while other were 20 to 30 minutes in advance. The questions were not so hard actually but I was just startled with their confidence. I don't think they double – checked their answers. But, it made me went crazy just to see them one by one turning in their sheets. Some might not bother but I do. After a few moment, I controlled my emotions and back on track. I rechecked everything over and over again until I am certain.
12. March 26th, 2018
I have mentioned earlier about how proud I am to be Indonesian, haven't I? this week I had an opportunity to visit Indonesian bataknese family in Minneapolis. This person happens to be a professor in MNSU. Actually, we have talked a few times directly and through email. So, yeah, he invited me over to his house.
On last Friday, he told me to come to his office with my personal belongings packed so we could drive to his house together. It took only two hours drive. On the way to his house, I asked him so many questions from the common questions to the craziest ones. He sure did answer all my questions with style. I adore his personality who is honest. He also taught me about modesty and life fulfillment. One of the most fabulous things I couldn't be more amazed of is how he never loses his Indonesian accent even when he is speaking English. He has been living in the U.S for more than 10 years but I could totally see him as completely an Indonesian with advance thoughts and brilliant mind.
Arriving at his home, I was warmly welcomed by his wife and his only son. They catered me food. I spent that night just to know them better through their stories and advices. Never I felt wiser than ever.
I spent three days with them. They took me everywhere, some of them were famous places. They took me to see the Mall of America, the biggest Mall in America. it was really huge. I felt like I was lost and needed a map just to find out the exit sign. That's how big it is. The playground is also great. Many people from other states stopped by just to play. In America, specifically in Minnesota, the winter is extremely hard, so it is all indoor. It was quite pricey though. That's why I only wandered, window shopped, and took some pictures whenever I found something cool.
I also visited an iconic place nearby named Saint Anthony Heritage Trail Falls. Nearby, built a bridge which connects Twin Cities and Minneapolis. This bridge is so crucial because it is the mute witness how this city built from nothing. The professor said that the scenery would be better on summer where I could enjoy the river stream and stay warm. On shiny day, I could also go down and play with the water.
13. April 2nd, 2018
A week has passed and my lust to explore Minnesota is still on fire. All Indonesian students in Minnesota are automatically joined on Persatuan Mahasiswa Indonesia di Minnesota (PERMIAS). Few days ago, we were invited to attend the Indonesian night in which all the students in Minnesota were summoned. This annual event took place on University of Minnesota since it has the largest Indonesian population.
I and all of Indonesian friends from Mankato came earlier in order to meet more Indonesian people but apparently, we were late. when we showed up the show has been begun already.
I am deeply honored to come to this event since some of the successful Indonesian figure would be the panelists. These persons have proven that they can be who they are now from the bottom. It was a pure inspiration. One of them was the General Manager of Apple Inc, one works for Minnesota Mining and Manufacturing (3M), one was the Gamelan expertise, the other one was the old lady who has been surviving living the US. They all shared on how they found success and how to surviving while holding their values in the US.
I can tell those panelists are exactly as they said just from the way they talk. They were being honest. They have sacrificed a lot of things to get to where they are right now. I am positive that they will be something beyond in the future. Their pep talks were really burning, it turns my zeal on.
I am not inspired to those people who can be crazy rich because of their parents' money. Literally everybody can do it with a little effort. I am crazy to see people who turn nothing into something. I am the living witness to see that it could happen because I have seen it directly from this panel discussion.
This sharing session was interspersed by the Indonesian traditional dance and music. The dance performed was Saman and the musical instrument played was Angklung. The performance was actually very common but the way the students live Indonesian culture is worthy of standing ovation. They were probably didn't get paid for performing and the rehearsal was so much tiring because they also had to sneak behind their tight college schedules. What can we say, love would make us do everything.
Upon the completion of the discussion, we were served with Indonesian food. That was the perfect time to broaden my networking. Sure enough I have made some new friends who have different majors but still good tho. We talked in Bahasa all over the Auditorium and the lobby. That was really cool.
I made it to meet the panelists in person. I still didn't have that much courage to ask them question as if I'm not worthy of it but my friends were really passionate about digging as much as information from these people. I just followed them, responded them, and wondered how could persons these great become so modest.
14. April 9th, 2018
I believe that the way we respect our country relies on how we respect others. it shows our identification and people stereotype us from that. This week, I attended the Ethiopian night since I got invited by my Ethiopian friends. I also happened to be invited to Sri Lankan night but both events were held on the same time. So, I didn't pick side, I picked randomly based on who sent their invitation first. In ended up with I decided to go the Ethiopian night. it was funny tho, I got invited but I had to pay the ticket to get in. it's fine. They did not want to make money. It was just a small appreciation for their presentment. I even used glasses just to show how excited I was to be present. It is something since I don't use glasses in daily basis. Lol.
It was a blast. I encountered with my Ugrad friends and happened to meet these two cute Arabian girls. We finally got along and sat close to another. They are really charming tho, I aint gonna lie. Making friends is always my priority.
It is the part of the tradition that in the beginning of the show, they will serve us with traditional food of Ethiopia. They don't eat rice very much but more like teff flour doughened. The texture is sort of spongy and tender, so called Injera. This food comes with the goat meat, eggs, and vegetables. The seasoning it has is similar with the rendang. I made my plate a bit gravy and mingled with people.
We were dazzled by their stage act. It was a quick night. maybe because how wondrous their shows were. There were drama, stand-up comedy, dance, music, and short presentation. the stand-up comedy was hilarious, I almost peed my pants. Lol.
I somehow imagined how if we have this Indonesian night here in Mankato. That'd be dope. But I do realize that we are outnumbered. We are only 5 people. in order to do that. We must form an Indonesian organization first whereas establishing an organization will need at least 20 students. maybe not this time.
I spared my time to talk and to take selfies with my Ethiopian friends. That night would be that last night we have ever met. So, I took my phone to capture the moment. my program is coming to and end. It is only less than one month left.
15. April 14th, 2018
As the part of UGRAD fellowship. We have an honor to present our country. I don't see it as an obligation because I would have done it for free. This took place on Ostrander Auditorium. Two weeks ago, we were summoned by our International Advisor to inform about this presentation. it also happened to be on the International Festival where all nations were going to participate. On this annual occasion, people can introduce their countries by selling traditional foods, books, flags, and so forth. I was both excited and scared. How if I screwed it up.
The advisor was very helpful. He called us one by one to practice. He even gave corrections to our slides. To be frank, compared to other, I was the worst during the rehearsal. Others were really controlling the atmosphere. Their English was even way better than mine. That also helped them a lot to rise their confidence.
The advisor gave me a lot of advice. It made me stressful really bad. I do realize that my English skills is not as better as others so I was trying to find my way out. If I can be better on the delivery, I should make a better-looking slide. I put a lot of necessary animation combined with pictures and video. Having a good slide does mean I could be slacking off. I worked day and night to practice alone in my room and lounge. I'd not want to let down everyone who have faith me. Never! On the last rehearsal in my advisor's room, I finally did it. He said that I have significantly improved and am ready to go.
The day had come, the first presenter was my friend from Panama. She did it really quick and perfect. she went down from the stage and got back to her seat. Not it's my turn. I held the microphone she handed me and started to greet them. I was really jittery. As the presentation was coming to a close, I felt relaxed and all my burdens flew away.
The audiences were pretty big. After the presentation, the spectator could ask us questions. The questions were kind of easy and general so we could get it all well answered. What a big day for me. I promised myself to not be pessimistic and willing to struggle to achieve anything in life. There is no such thing as a short way. The toughness what makes it great
16. April 21st, 2018
my time in the US is coming to a close. I started to realize it when I attended the End of Program in Washington DC Workshop (EoPinDC). The EoPinDC is a semiannual event to those who are grantees of Global UGRAD. in this event, all grantees will gather in Washington DC and be given education about how to be a future leader in our society after going back to the home country.
this event has gone rollercoaster for me. The event was actually commenced on April 15th – April 18th 2018. We were supposed to leave Minnesota on the day before. Everything had been settled, that included the itinerary, the land transportation, the hotel, everything. On April 14th, I and other UGRADers from Mankato had gathered in the lobby from 4.30 AM waiting for the airport bus to fetch us. we had been warning few days ago that it was going to be snowstorm and that day. I just couldn't imagine how the heck it became this bad on spring. That does make sense at all.
Anyhow, we got out from the lobby and standing in the bus stop. The bus was scheduled to arrive at 5 AM but nothing showed up. We were standing there and the snowstorm was killing us. it was -350C outside, and because it was windy so hard, it became chiller. We were standing there for like 30 minutes or so idk, I just couldn't get my mind straight. In the end, until 5.30 and so on the bus did not come. we were very sad. EoPinDC is like the UGRAD's dream. To not be able to follow this program is so hurtful. Things could not get any worse, our flight to Washington DC got cancelled due to bad weather. We heavily went back dorm.
17. April 28th, 2018
last weeks I had the worst snowstorm in Minnesota. I could not even do any outdoor activities. The trees were freezing and the grass turned white. Few weeks ago, I could see cycles were parked with their tires sank in the snow. Whenever I went outside, all people had to fully cover their body with a really thick winter coat, hats, boots, gloves, and face cover. In the way, looking at people rubbing their hands to generate heat. While they were speaking, the fog coming out from their mouths.
Most people were sitting in the café with their pals while sipping their coffee. Some people were happier to be left alone to do whatever they were doing. I saw the most romantic scene ever, standing right behind the couple who were holding hands and smiling at each other breaching the cold air. Why am I being so sensitive. Maybe it is because of the winter blue. People tend to be more vulnerable when they are alone and noticing the "frozen water" falling to the earth. Who doesn't? it's like when raining so hard and you don't feel like doing anything and recalling your nostalgic moments with your precious ones.
The snow has vanished! Finally. Those views I mentioned earlier had gone. Everybody is so hyped and happy. I can now enjoy people playing some outdoors sports like volleyball, and frisbee. It is so crowded outside. All students wear no winter coats but shirts, tank tops, crop tops, or even singlets. Some student welcoming this season change by playing skateboards and roller skates. The cycles are not chained anymore. They are operated. I also happened to spot people relishing on the tree swings. Neither do I, I started to keep my jacket in the closet.
I travelled to somewhere nice on Mankato with my friends to celebrate this warmth. We drove away to the dead city, it is so called dead city not because its populaces were murdered but because it used to be a pretentious city and for some reasons people left. So, we could still look at the old – fashioned house and payphone. it was so classy. I could finally see the water ripple on the lake after we went to some bridges. The fall has finally transformed into spring!
The fun is beginning to sallow. Next week I am going to have a lot of finals. I have to start over from the first day to recall all the lectures. It looks like I don't have much time to enjoy what nature finally has something to offer me. But I don't really mind. My education comes first.
18. May 4th, 2018
My time in the US has ended. Everything is not that easy. I had been through tough times and somehow, I could manage to surpass it all. It is not because of my own capabilities but the relentless grace God bestowed upon me. I am not going to deny that part of my success here is because of the life values rooted in me since I was in Del. The 3M is the real deal. It helped me survived during hard times. I think it works for everyone who is committed to live it.
I am not going to say much about my finals. Let bygones be bygones. I did pretty good job tho. I just want to say thank you for all the supports and the wishes I got during my stay in here. I hope I can be the proud of my family, my institution, my friends, and foremost to God.
Yesterday, I had packed all of my stuff into a giant briefcase and two backpacks. I was really afraid of paying more cash due to baggage policy on airport so I left my utensils, clothes, pillow, etc. in the dorm. I also have completed all the checks in dorm and paid all my debt to the libraries. That's why I can be here right now in hotel, waiting for my flight tomorrow morning,
Before I left, I was stealing time to probably take the last pictures with all my homies in the campus. I hugged them all. It is pretty sad actually. I am probably not going to see them ever again. I wish nothing but the future will cross our paths.
Being a UGRAD grantee is not about travelling and studying. It is a lifechanging experience.